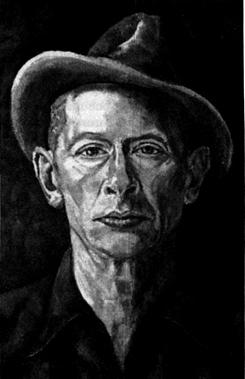 Edward Estlin Cummings was a poet, playwright, prose writer, and painter whose vital transcendental vision found embodiment in a startling array of innovative artistic devices, where typography, punctuation, grammar, syntax, diction, imagery, and rhythm were often pushed to their limits.
After completing his B.A. and M.A. in English and classics at Harvard University by 1916, Cummings volunteered for the Norton-Harjes Ambulance Corps in France during World War I. He wrote letters back home criticizing the conduct of the war, and the nervous French censors had him arrested and sent (1917) to a detention center, where he remained for three months before being released. This harrowing prison-camp experience became the basis of his first published book, The Enormous Room (1922), one of the best American works to come out of that war. Written as a journal of his prison stay, it is heightened by an already experimental prose style and a hatred of bureaucracy that could treat helpless and innocent civilians so cruelly. On his return from France to the United States, refusing his family's wish that he seek a commission, Cummings was drafted into the army until shortly after the 1918 Armistice. He depicts military life satirically in such poems as i sing of Olaf glad and big (1931).
Cummings's celebration of the individual, then, and of love and spring, was not simply sentimental, as has sometimes been claimed, for it was based on hard-won personal experience. It was also based on his transcendental vision, and it is this that provides the rationale for his artistic experimentalism. Regarding the invisible world of the spirit as dwelling within the visible world of matter, this vision sees matter as bodying forth spirit. To realize this, however, requires peeling the scales of habit from one's eyes, for society's routines tend to deaden one's insight into the organic aliveness of the world and all its creatures.
After the war, Cummings devoted himself entirely to his writing and painting, publishing 11 books of poems–with a posthumous volume appearing the year after his death. All are collected in Complete Poems 1913-1962 (1972). He also published a second antibureaucracy journal, this time of his journey to the Soviet Union, entitled Eimi (Greek for "I Am"), in 1933, as well as several plays–Him (1927), Anthropos: The Future of Art (1930; 1945), and Santa Claus: A Morality (1946)–and a scenario for a ballet called Tom (1935), based on Uncle Tom's Cabin. His lectures and essays are to be found in i: Six Nonlectures (1953) and E. E. Cummings: A Miscellany (1958; rev. ed., 1965). A group of stories for children entitled Fairy Tales appeared in 1965; and his Selected Letters was published in 1969.
Poems by e.e. Cummings
View: E.E.Cummings Poetry