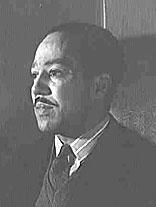 "Life is for the living.
Death is for the dead.
Let life be like music.
And death a note unsaid."
– Langston Hughes
Langston Hughes was born in 1902, Joplin Missouri. He was one of the leading poets of the 'Harlem Renaissance' His poetry depicted the lives and experiences of ordinary black people. Langston Hughes' poems are characterized by a musical and lyrical language. In fact many of his poems have been set to music. The major influences of Langston Hughes were Walt Whitman, The Bible and Carl Sandbury.
Langston Hughes initially wished to be a lawyer but he was not allowed to take the bar exam. Therefore with the support of his father Langston went to Columbia University New York. However Langston could not take to University life and dropped out of his studies. He spent much of his time in the nearby Harlem district, visiting the lively jazz scene. After this Langston travelled to various parts of the world and had to support himself with menial jobs. However he began writing poetry and this led him to recognition as a poet. It is said that Langston Hughes was discovered by the poet Vachel Lindsay when he visited Washington (where Langston was working as a busboy) This recognition enabled him to give up his job as a busboy and devoted himself more to writing. In 1930 he produced his first novel 'Not Without Laughter' this was moderately successful.
"Hold fast to dreams,
For if dreams die
Life is a broken-winged bird,
That cannot fly."
– Langston Hughes
Langston Hughes was one of the pioneer black authors who were able to support themselves through their writing. Later in his life he embraced radical politics. Like Du Bois he felt it was important to be able to understand and appreciated his African roots. Langston Hughes remained unmarried and died in 1964 from complications following surgery for prostate cancer.
"To fling my arms wide
In some place of the sun,
To whirl and to dance
Till the white day is done.
Then rest at cool evening
Beneath a tall tree
While night comes on gently,
Dark like me–
That is my dream!"
From: Dream Variation ~ The Collected Poems of Langston Hughes
Langston Hughes Poems
Selected works by Langston Hughes:
THE NEGRO SPEAKS OF RIVERS, 1921 ( poem published in the journal Crisis)
THE WEARY BLUES, 1926 (incl. poem Dream Variation)
FINE CLOTHES TO THE JEW, 1927
NOT WITHOUT LAUGHTER, 1930
THE DREAM KEEPER, 1932
SCOTTSBORO LIMITED, 1932
THE WAYS OF THE WHITE FOLKS, 1934
THE BIG SEA, 1940
SHAKESPEARE IN HARLEM, 1941
LAUGHING TO KEEP FROM CRYING, 1952
THE SWEET FLY-PAPER OF LIFE, 1955
translation: Selected Poems of Gabriel Mistral, 1957
TAMBOURINES GO TO GLORY, 1958
THE COLLECTED POEMS OF LANGSTON HUGHES, 1994
THE PASTEBOARD BANDIT, 1997 ( illustrated by Peggy Turley)
COLLECTED WORKS OF LANGSTON HUGHES, 2001-2002 (18 vols.)
Links