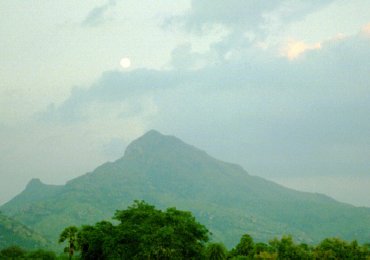 (photo of Arunachala)

View: Ramana Puranam
Muruganar (1890-1973) is widely regarded as being one of the foremost devotees of Bhagavan. He was instrumental in getting Bhagavan to compose the verses that comprise Ulladu Narpadu and Upadesa Undiyar, two of Bhagavan's major philosophical poems, and he composed thousands of poems of his own that either praised Bhagavan, recorded his teachings or expressed gratitude to Bhagavan for having established him in the Self.
In his earlier life he was known as C. K. Subramania Iyer, although his parents called him Sambamurthi. Before coming to Bhagavan he was a well-respected Tamil scholar who served on a prestigious committee that was compiling the definitive Tamil dictionary. He also worked as a schoolteacher and private tutor.
It was a visit by Dandapani Swami, his father-in-law, that prompted him to go to Tiruvannamalai in September 1923. When Dandapani Swami showed him Aksharamanamalai, Bhagavan's 108 verses in praise of Arunachala, Muruganar immediately recognised that RamanaMaharshi was the Guru he had been actively seeking. He decided to pay a visit to Tiruvannamalai and see him. On the way there he composed eleven verses in the Arunachaleswara Temple. Most of the verses, addressed to Bhagavan as Siva, contained pleas for grace.
Web Source: David Godman.org
Links
Ramana Puranam – Selected lines from the poem composed by Muruganar and Bhagavan
Ramana Maharshi – homepage