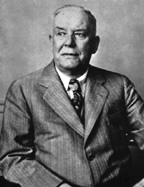 Critically regarded as one of the most significant American poets of the 20th century. Stevens largely ignored the literary world and he did not receive widespread recognition until the publication of his COLLECTED POEMS (1954). In his work Stevens explored inside a profound philosophical framework the dualism between concrete reality and the human imagination. For most of his adult life, Stevens pursued contrasting careers as a insurance executive and a poet. "The poem must resist the intelligence / Almost successfully," Stevens wrote in 1949 in 'Man Carrying Thing.'
Wallace Stevens was born in Reading, Pennsylvania, as the son of Garrett Barcalow Stevens, a prosperous country lawyer. His mother's family, the Zellers, was of Dutch origin; she taught at school. Stevens attended the Reading Boys' High School, and enrolled in 1893 at Harvard College. During this period Stevens began to write for the Harvand Advocate, Trend, and Harriet Monroe's magazine Poetry. In his writing aspirations he was encouraged among others by George Santayana. Stevens's first play, THREE TRAVELLERS WATCH A SUNRISE, won that magazine's prize for verse drama in 1916. It was produced in the following year at New York's Provincetown Playhouse.
After leaving Harvard without degree in 1900, Stevens worked as a reporter for the New York Tribune. He then entered New York Law School, graduated in 1903, and was admitted to the bar next year.
Stevens worked as an attorney in several firms and in 1908 secured a position with the American Bonding Company. He married Elsie Kachel Moll, a shopgirl, from his home town; their daughter, Holly, was born in 1924. She later editer her father's letters. The marriage was unhappy but stable. Elsie's was fanatical in her housekeeping and Stevens idealized and rejected her presence. Stevens did not like visitors at home – he kept distance to people but gained also fame as a serious joker. On the other hand, Stevens spent time with avant-garde writers and artist around his Harvard classmate and art collector Walter Arensberg.
Stevens published his first collection of verse, HARMONIUM (1923), at the age of forty-four. Although it was well received by some reviewers, such Marianne Moore, it sold only 100 copies. "From one end of the book to the other there is not an idea that can vitally affect the mind, there is not a word that can arouse emotion. The volume is a glittering edifice of icicles. Brilliant as the moon, the book is equally dead," wrote Percy Hutchison in The New York Times (August 9, 1931). Now the collection is regarded as one of the great works of American poetry. Harmonium included 'The Emperor of the Ice Cream', one of Stevens's own favorite poems, 'Le Monocle de Mon Oncle', 'The Man Whose Pharynx Was Bad', and 'Thirteen Ways of Looking at a Blackbird'. The poems were partly autobiographical, also referring to the failure of the author's marriage.'The Emperor of Ice-Cream' is not about what its title says, but more about death seen in harsh light – 'If her horny feet protrude, they come / To show how cold she is, and dumb"- and respect in front of too-short life – "Bring flowers in last month's newspapers."
In the mid-1910s Stevens moved to Connecticut, where he worked as a specialist in investment banking of the Hartford Accident and Indemnity Company. Insurance business too most of Stevens's time and he published little. In 1934 he was named a vice president of the company. IDEAS AND ORDER, Stevens's next collection of poems, was published in 1935, and received mixed critics, with accusations of indifference to political and social tensions of the day from the Marxist journal New Masses. However, according to Joan Richardson's biography from 1988, Stevens was a closet socialist during the 1930's, but did not make his views a public issue (see Wallace Stevens: The Later Years, 1923-1955 ). In OWL'S CLOVER (1937) Stevens meditated on art and politics, as a reaction to the critic of politically committed critics. THE MAN WITH THE BLUE GUITAR AND OTHER POEMS (1937) affirmed that Poetry / Exceeding music must take place / Of empty heaven and its hymns.
From the early 1940s Stevens entered a period of creativity that continued until his death in Hartford on August 2, in 1955. He turned gradually away from the playful use of language to a more reflective, though abstract style. Among his acclaimed poems were 'Notes toward a Supreme Fiction', 'The Auroras of Autumn', 'An Ordinary Evening in New Haven', and 'The Planet on the Table'. Echoing the ideas of Baudelaire, Stevens argued in 'Esthétique du Mal' that beauty is inextricably linked with evil. Stevens also wrote much about writing poetry and in 'A Primitive Like an Orb' he stated: "We do not prove the existence of the poem. / It is something seen and known in lesser poems. / It is the huge, high harmony that sounds / A little and a little, suddenly, / By means of a separate sense."
Before gaining national fame as a poet Stevens enjoyed a high respect among his colleagues. His life as a corporate lawyer did not much impede his creativity as a lyric poet. Perhaps he only knew better than many others how abtract paragraphs and calculations have deep roots in concrete human reality. In 1946 Stevens was elected to the National Institute of Arts and Letters, in 1950 he received the Bollingen Prize in Poetry, and in 1955 he was awarded both the Pulitzer Prize and the National Book Award.
Selected bibliography:
* THREE TRAVELLERS WATCH A SUNRISE, pub. 1916 – play
* CARLOS AMONG THE CANDLES, 1917 – play
* HARMONIUM, 1923 (rev. ed. 1931)
* IDEAS OF ORDER, 1935
* OWL'S CLOVER, 1936
* THE MAN WITH THE BLUE GUITAR, AND OTHER POEMS, 1937
* PARTS OF A WORLD, 1942
* NOTES TOWARD A SUPREME FICTION, 1942
* ESTHÉTIQUE DU MAL, 1945
* TRANSPORT TO SUMMER, 1947
* THE AURORAS AUTUMN, 1950
* THE NECESSARY ANGEL, 1951
* SELECTED POEMS, 1952
* THE COLLECTED POEMS OF WALLACE STEVENS, 1954
* OPUS POSTHUMOUS, 1957
* LETTERS OF WALLACE STEVENS, 1966 (ed. by Holly Stevens)
* THE PALM AT THE END OF THE MIND: SELECTED POEMS AND A PLAY, 1971 (play: Bowl, Cat and Broomstick)
* SOUVENIRS AND PROPHECIES, 1977 (ed. by Holly Stevens)
* SECRETARIES OF THE MOON, 1986
* SUR PLUSIEURS BEAUX SUJECTS, 1989
* COLLECTED POETRY AND PROSE, 1996
From Books and Writers