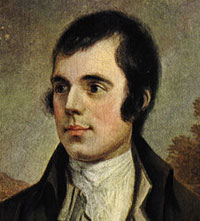 Robert Burns was born near Ayr, the son of William Burns, a small farmer, and a man of considerable force of character and self-culture. His youth was passed in poverty, hardship, and a degree of severe manual labour which left its traces in a premature stoop and weakened constitution. He had little regular schooling, and got much of what education he had from his father.
In 1781 Robert went to Irvine to become a flax-dresser, but, as the result of a New Year carousal of the workmen, including himself, the shop took fire and was burned to the ground. This venture
accordingly came to an end. In 1784 his father died, and Robert Burns along with his brother Gilbert made an ineffectual struggle to keep the farm a profitable enterprise. To provide a counterpoint to the rigours of the hard manual labour Robert turned to poetry. He wrote his first poem age 15, it was entitled 'My Handsome Nell'.
Throughout his life Robert had many romantic interludes with various women, and was the father to several illegitimate children. Often his poetry reflected on his romantic experiences. However problems with the farm and also from his failed affairs, led him to consider leaving Scotland for the West Indies to work on a plantation. However about this time he started to have his poetry published and his reputation started to spread throughout Scotland. This combined with his fatherly responsibilities encouraged him to stay. With his name becoming well known in literary circles Robert travelled to Edinburgh where he met many famous writers of the time such as Robertson, Blair. Robert bore himself with unaffected dignity, and the literacy marvelled at this 'Ploughman Poet'
A friend of Robert Burns described him as:
"manners rustic, not clownish. His countenance … more massive than it looks in any of the portraits … a strong expression of shrewdness in his lineaments; the eye alone indicated the poetical character and temperament. It was large, and of a dark cast, and literally glowed when he spoke with feeling or interest."
On his return to Ayrshire he renewed his relations with Jean Armour, whom he ultimately married, again the farm proved unsuccessful and for a time he had to fall back on the job of an exciseman to supplement his income.
In the 1790s Robert Burns was writing some of his best poetry. In 1970 he produced 'Tam o'Shanter' and later he contributed over 100 songs for 'Melodies of Scotland'. This is perhaps his most famous work and ranks him alongside the greatest of the lyric poets.
Although he had now achieved great fame and had secured his financial future, the last years of his life were marked by sadness. He had alienated many of his best friends by freely expressing sympathy for the French Revolution. Also he took to drinking especially heavily which contributed to his premature death, from a heart attack at the age of 37.  He died on July 21, 1797. His funeral is said to have attracted over 10,000 people, although his popularity grown at an astonishing rate since his death. He is widely regarded as 'Scotland's National Bard'
The genius of Burns is marked by spontaneity, directness, and sincerity, and his variety is marvellous, ranging from the tender intensity of some of his lyrics through the rollicking humour and blazing wit of 'Tam o' Shanter' to the blistering satire of 'Holy Willie's Prayer' and 'The Holy Fair'. His life is a tragedy, and his character full of flaws. But he fought at tremendous odds, and as Carlyle in his great Essay says,
"Granted the ship comes into harbour with shrouds and tackle damaged, the pilot is blameworthy … but to know how blameworthy, tell us first whether his voyage has been round the Globe or only to Ramsgate and the Isle of Dogs."
Sources: A Short Biographical Dictionary of English Literature, John W. Cousins.
Robert Burns Poems
View: Robert Burns Poems
External Links