| | |
| --- | --- |
| | Emily Dickinson (December 10, 1830 – May 15, 1886) was an American poet. She mostly lived the life of a recluse, and only a few of her poems were published in her lifetime. However, after her death, her unique poetic style was widely admired for its originality, concise use of words and profound feeling. |
 Biography Emily Dickinson
American poet, born Amherst, Mass. She is widely considered one of the greatest poets in American literature. Her unique, gemlike lyrics are distillations of profound feeling and original intellect, and they stand outside the mainstream of American literary tradition.
Dickinson spent almost all her life in her birthplace. Her father was a prominent lawyer who was active in civic affairs. His three children (Emily; a son, Austin; and another daughter, Lavinia) thus had opportunities of meeting many distinguished visitors. Emily Dickinson attended Amherst Academy irregularly for six years and Mount Holyoke Seminary for one, and in those years lived a normal life filled with friendships, parties, church, and housekeeping. Before she was 30, however, she began to withdraw from village activities and gradually ceased to leave home at all. While she corresponded with many friends, she eventually stopped seeing them. She often fled from visitors and eventually lived as a virtual recluse in her father's house.
Even before her withdrawal from the world she had been writing poetry, and her creative peak seems to have been reached in the period from 1858 to 1862. Although she was encouraged by the critic Thomas Wentworth Higginson, who never comprehended her genius, and Helen Hunt Jackson , who believed she was a great poet, Dickinson published only seven poems during her lifetime. She was an intense, sensitive person who became exhausted by emotional contact with others.
Dickinson's mode of existence, although circumscribed, was evidently satisfying, even essential, to her. After her death in 1886, Lavinia Dickinson discovered over 1,000 poems in her sister's bureau. For too long Dickinson was treated less as a serious artist than as a romantic figure who had renounced the world after a disappointment in love. This legend, based on conjecture, distortion, and even fabrication, still plagues her biographers.
Works
The chief tension in her work comes from a different source: her inability to accept the orthodox religious faith of her day and her longing for the spiritual comfort of it. As we see in this poem:
MUCH madness is divinest sense
To a discerning eye;
Much sense the starkest madness.
'T is the majority
In this, as all, prevails.
Assent, and you are sane;
Demur,—you 're straightway dangerous,
And handled with a chain.
– Emily Dickinson
Immortality she called 'the flood subject,' and she alternated confident statements of belief with lyrics of despairing uncertainty that were both reverent and rebellious. Her verse, noted for its aphoristic style, its wit, its delicate metrical variation and irregular rhymes, its directness of statement, and its bold and startling imagery, has won enormous acclaim and has had a great influence on 20th-century poetry.
Dickinson's posthumous fame began when Mabel Loomis Todd and Higginson edited and published two volumes of poems (1890, 1891) and some of her correspondence (2 vol., 1894). Other editions of verse followed, many of which were marred by unskillful and unnecessary editing. A definitive edition of her works did not appear until the 1950s, when T. H. Johnson published her poems (3 vol., 1955) and letters (3 vol., 1958); only then was a serious study of her work possible.
Selected Poems of Emily Dickinson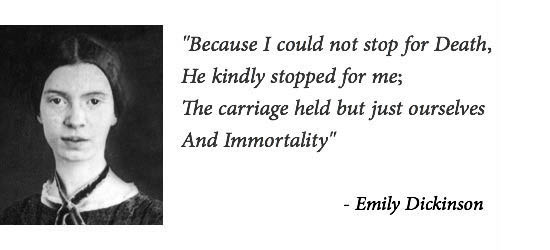 More Poetry Collections
External Links