| | |
| --- | --- |
| |  Sarojini Naidu. (1879 – 1949), was an Indian independence activist and poet. Naidu was the second Indian woman to become the President of the Indian National Congress. Also known as also known as The Nightingale of India (Bharatiya Kokila). |
Poems by Sarojini Naidu
Sarojini Naidu – Biography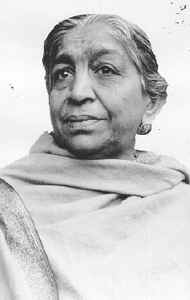 Sarojini Chattopadhyay was born at Hyderabad on February 13, 1879 the eldest of a large family, all of whom were taught English at an early age. At the age of twelve she passed the Matriculation of the Madras University, and awoke to find herself famous throughout India.
Before she was fifteen the great struggle of her life began. Dr. Govindurajulu Naidu, later to become her husband was, though of an old and honourable family, not a Brahmin. The difference of caste roused an equal opposition, not only on the side of her family, but of his; and in 1895 she was sent to England, against her will, with a special scholarship from the Nizam. She remained in England, with an interval of travel in Italy, till 1898, studying first at King's College, London, then, till her health again broke down, at Girton. She returned to Hyderabad in September 1898, and in the December of that year, to the scandal of all India, broke through the bonds of caste, and married Dr. Naidu.
During her stay in England she met Arthur Symons, a poet and critic. They corresponded after her return to India. He persuaded her to publish some of her poems as The Golden Threshold(55K e-text available through Project Gutenberg). her collection of poems was published in 1905 under the title "Golden Threshold". After that, she published two other collections of poems–"The Bird of Time" and "The Broken Wings". In 1918, " Feast of Youth" was published. Later, "The Magic Tree", "The Wizard Mask" and "A Treasury of Poems" were published. Mahashree Arvind, Rabindranath Tagore and Jawaharlal Nehru were among the thousands of admirers of her work. Her poems had English words, but an Indian soul.
Then in 1916, she met Mahatma Gandhi, and she totally directed her energy to the fight for freedom. She would roam around the country like a general of the army and pour enthusiasm among the hearts of Indians. The independence of India became the heart and soul of her work.
She was responsible for awakening the women of India. She brought them out of the kitchen. She traveled from state to state, city after city and asked for the rights of the women. She re-established self-esteem within the women of India.
In 1925, she chaired the summit of Congress in Kanpur. In 1928, she came to the USA with the message of the non-violence movement from Gandhiji. When in 1930, Gandhiji was arrested for a protest, she took the helms of his movement. In 1931, she participated in the Round Table Summit, along with Gandhiji and Pundit Malaviyaji. In 1942, she was arrested during the "Quit India" protest and stayed in jail for 21 months with Gandhiji.
After independence she became the Governor of Uttar Pradesh. She was the first woman governor. She passed away on March 2, 1949.
Sarojini Naidu Links