| | |
| --- | --- |
| | William Blake (1757 – 1827) – British mystical Poet.William Blake was a poet, artist, engraver and print-maker. Largely misunderstood during his lifetime, he is now regarded as one of the finest poets of the English language. His unique poetry encompassed a range of emotions and mystical under-currents, shaped by his vision and empathy for the world around him. |
Selected Poems of William Blake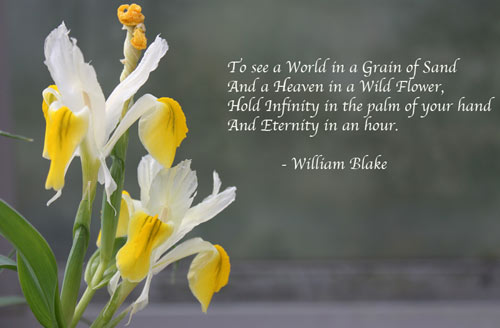 Further Collections of Poetry by Blake
Biography of William Blake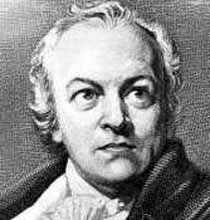 William Blake was a poet, painter, visionary mystic, and engraver. During his life the prophetic message of his writings were understood by few and misunderstood by many. However Blake is now widely admired for his soulful originality and lofty imagination. The poetry of William Blake is far reaching in its scope and range of experience. The poems of William Blake can offer a profound symbolism and also a delightful childlike innocence. Whatever the inner meaning of Blake's poetry we can easily appreciate the beautiful language and lyrical quality of his poetic vision.
"To see a world in a grain of sand
And heaven in a wild flower
Hold infinity in the palm of your hand
And eternity in an hour."
From " Auguries of innocence "
William Blake was born in London, where he spent most of his life. His father was a successful London hosier and attracted by the doctrines of Emmanuel Swedenborg. Blake was first educated at home, chiefly by his mother. His parents encouraged him to collect prints of the Italian masters, and in 1767 sent him to Henry Pars' drawing school. From his early years, he experienced visions of angels and ghostly monks, he saw and conversed with the angel Gabriel, the Virgin Mary, and various historical figures. These memories never left him and influenced his poetry throughout his life
His early poems Blake wrote at the age of 12. However, being early apprenticed to a manual occupation, journalistic-social career was not open to him. His first book of poems, POETICAL SKETCHES, appeared in 1783 and was followed by SONGS OF INNOCENCE(1789), and SONGS OF EXPERIENCE (1794). His most famous poem, 'The Tyger', was part of his Songs of Experience. Typical for Blake's poems were long, flowing lines and violent energy, combined with aphoristic clarity and moments of lyric tenderness.
In 1790 Blake engraved THE MARRIAGE OF HEAVEN AND HELL, a book of paradoxical aphorisms and his principal prose work. "If the doors of perception were cleansed everything would appear to man as it is, infinite." (from The Marriage of Heaven and Hell) The work expressed Blake's revolt against the established values of his time: "Prisons are built with stones of Law, brothels with bricks of Religion." Radically he sided with the Satan in Milton's Paradise Lost and attacked the conventional religious views in a series of aphorisms. But the poet's life in the realms of images did not please his wife who once remarked: "I have very little of Mr. Blake's company. He is always in Paradise." Some of Blake's contemporaries called him a harmless lunatic.
The Blakes moved south of the Thames to Lambeth in 1790. During this time Blake began to work on his 'prophetic books', where he expressed his lifelong concern with the struggle of the soul to free its natural energies from reason and organized religion. He wrote AMERICA: A PROPHESY (1793), THE BOOK OF URIZEN (1794), and THE SONG OF LOS (1795). Blake hated the effects of the Industrial Revolution in England and looked forward to the establishment of a New Jerusalem "in England's green and pleasant land." Between 1804 and 1818 he produced an edition of his own poem JERUSALEM with 100 engravings.
"Bring me my Bow of burning gold:
Bring me my Arrows of desire:
Bring me my Spear: O clouds unfold!
Bring me my Chariot of Fire."
(from 'Jerusalem' in Milton, 1804-1808)
In 1800 Blake was taken up by the wealthy William Hayley, poet and patron of poets. The Blakes lived in Hayley's house at Felpham in Sussex, staying there for three years. At Felpham Blake worked on MILTON: A POEM IN TWO BOOKS, TO JUSTIFY THE WAYS OF GOD TO MEN. It was finished and engraved between 1803 and 1808. In 1809 Blake had a commercially unsuccessful exhibition at the shop once owned by his brother. However, economic problems did not depress him, but he continued to produce energetically poems, aphorisms, and engravings. "The tigers of wrath are wiser than the horses of instruction," he wrote.
Independent through his life, Blake left no debts at his death on August 12, 1827. He was buried in an unmarked grave at the public cemetery of Bunhill Fields. Wordsworth's verdict after Blake's death reflected many opinions of the time: "There was no doubt that this poor man was mad, but there is something in the madness of this man which interests me more than the sanity of Lord Byron and Walter Scott." Blake's influence grew through Pre-Raphealites and W.B. Yeats especially in Britain. His interest in legend was revived with the Romantics' rediscovery of the past, especially the Gothic and medieval. In the 1960s Blake's work was acclaimed by the Underground movement. T.S. Eliot wrote in his essay on Blake that "the concentration resulting from a framework of mythology and theology and philosophy is one of the reasons why Dante is a classic and Blake only a poet of genius."
Blake Links