| | |
| --- | --- |
| | John Keats (1795 – 1821). A leading English Romantic Poet. Keats became famous after his death for the power and vivid imagery of his Odes and epic Endymion. |
Selected Poetry of John Keats
John Keats – Biography
KEATS, JOHN (1795-1821) He was sent to a school at Enfield, and having meanwhile become an orphan, was in 1810 apprenticed to a surgeon at Edmonton. In 1815 he went to London to work in different hospitals. However he was not at all enthusiastic in this profession. Instead he became immersed in literature, meeting like minded poets such as Shelley, William Wordsworth and others.
His first work some sonnets appeared in Hunt's 'Examiner', and his first book, 'Poems', came out in 1817. This book, while containing much that gave little promise of what was to come, was not without touches of beauty and music, but it fell quite flat, finding few readers beyond his immediate circle. His next work 'Endymion' appeared in 1818 but received harsh criticism from leading magazines. Despite Keats' own self confidence in his poetic powers these harsh criticism took their toll. Because of this and other factors his health broke down leading him to suffer from heredity consumption for the rest of his life. In the hope of restored health, he made a tour in the Lakes and Scotland, from which he returned to London none the better. The death soon after of his brother Thomas, whom he had helped to nurse, told upon his spirits, as did also his unrequited passion for Miss Fanny Brawne.
In 1820 he published 'Lamia and Other Poems', containing 'Hyperion' and the odes to the 'Nightingale' and 'The Grecian Urn', all of which had been produced within a period of about 18 months. This book was warmly praised in the 'Edinburgh Review'. His health had by this time completely given way, however Keats was kindly looked after by close friends, the Hunts and the Brawanes.
At last in 1821 he set out, accompanied by his friend Severn, on that journey to Italy from which he never returned. After much suffering he died at Rome, and was buried in the Protestant cemetery there. On his desire the following lines were engraved on his tombstone.
'Here lies one whose name was writ in water'
Friends of Keats described him as "eager, enthusiastic, and sensitive, but humorous, reasonable, and free from vanity, affectionate, a good brother and friend, sweet-tempered, and helpful." In his political views he was liberal, in his religious, indefinite. Though in his life-time subjected to much harsh and unappreciative criticism, his place among English poets is now assured. His chief characteristics are intense, sensuous imagination, and love of beauty, rich and picturesque descriptive power, and exquisitely melodious versification.
Sources: A Short Biographical Dictionary of English Literature
Author: John W. Cousin
Quotes from Poetry of Keats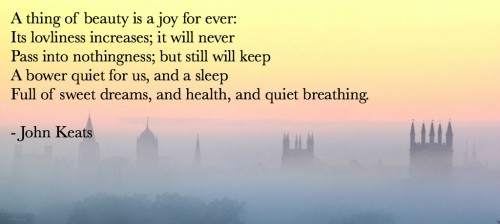 "A thing of beauty is a joy forever
Its loveliness increases; it will never
Pass into nothingness; '
~
"In spite of all,
Some shape of beauty moves away the pall
From our dark spirits. "
– Keats
Keats Links

Keats Poetry Bibliography
Poetry
Collections: The Poetical Works of Coleridge, Shelley, and Keats (1831)
Endymion: A Poetic Romance (1818)
Lamia, Isabella, The Eve of St. Agnes, and Other Poems (1820)
Poems (1817)
The Poems of John Keats (1970)
The Poems of John Keats (1978)
The Poetical Works and Other Writings of John Keats (1883)