| | |
| --- | --- |
| | Omar Khayyam (18 May 1048 – 4 December 1131) was Persian polymath: philosopher, mathematician, astronomer and poet. He also wrote treatises on mechanics, geography, mineralogy, music, and Islamic theology. He is best known for his epic work of poetry. – the Rubaiyat of Omar Khayyam |
Omar Khayyam's full name was Ghiyath al-Din Abu'l-Fath Umar ibn Ibrahim Al-Nisaburi al-Khayyami. A literal translation of the name al-Khayyami (or al-Khayyam) means tent man and this may have been the trade of Ibrahim his father. Khayyam played on the meaning of his own name when he wrote:-
Khayyam, who stitched the tents of science,
Has fallen in grief's furnace and been suddenly burned,
The shears of Fate have cut the tent ropes of his life,
And the broker of Hope has sold him for nothing!
The political events of the 11th Century played a major role in the course of Khayyam's life. The Seljuq Turks were tribes that invaded southwestern Asia in the 11th Century and eventually founded an empire that included Mesopotamia, Syria, Palestine, and most of Iran. The Seljuq occupied the grazing grounds of Khorasan and then, between 1038 and 1040, they conquered all of north-eastern Iran. The Seljuq ruler Toghrïl Beg proclaimed himself sultan at Nishapur in 1038 and entered Baghdad in 1055. It was in this difficult unstable military empire, which also had religious problems as it attempted to establish an orthodox Muslim state, that Khayyam grew up.
Khayyam studied philosophy at Naishapur and one of his fellow students wrote that he was:-
… endowed with sharpness of wit and the highest natural powers …
Outside the world of mathematics, Khayyam is best known as a result of Edward Fitzgerald's popular translation in 1859 of nearly 600 short four line poems the Rubaiyat. Khayyam's fame as a poet has caused some to forget his scientific achievements which were much more substantial. Versions of the forms and verses used in the Rubaiyat existed in Persian literature before Khayyam, and only about 120 of the verses can be attributed to him with certainty. Of all the verses, the best known is the following:-
The Moving Finger writes, and, having writ,
Moves on: nor all thy Piety nor Wit
Shall lure it back to cancel half a Line,
Nor all thy Tears wash out a Word of it.
 – Omar Khayyam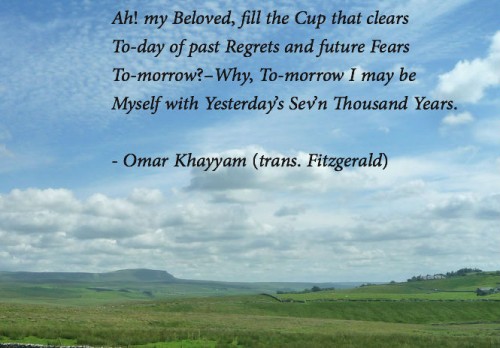 Rubaiyat of Omar Khayyam
View: The Rubaiyat