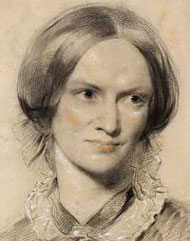 Charlotte Bronte (1816 – 1855) Novelist and Poet.
Charlotte was the daughter of the Rev. Patrick Bronte,with her sisters Emily and Anne, Charlotte was brought up in a small parsonage in the Yorkshire village of Haworth. Whilst still in her childhood the Bronte sisters lost their mother and as the eldest Charlotte took up the a role of looking out for her sisters Emily and Anne. Charlotte was described as: "the motherly friend and guardian of her younger sisters,"
The sisters had an unusual upbringing in that their house overlooked the village graveyard. To escape from these surroundings and the loss of their mother they would often spend time creating stories of fantasy lands. These fantasy stories were often based on the soldiers of their strict, religious aunt, Elisabeth Branwell. Later in a poem Charlotte wrote:
"We wove a web in childhood, / A web of sunny air."
After various efforts as schoolmistresses and governesses, the sisters took to literature and published a volume of poems under the names of Currer, Ellis, and Acton Bell Unfortunately these early publications were a commercial failure. However this did not deter Charlotte and she continued with her novels such as 'The Professor' and 'Jane Eyre'. Jane Eyre proved to be tremendously popular with the public when it appeared in 1854. The novel has gained status as one of the classics of English literature for its originality and strength of writing.
Charlotte was married to her father's curate, the Rev. A. Nicholls, but after a short though happy married life she died in childbirth in 1855.
"Conventionality is not morality. Self-righteousness is not religion. To attack the first is not to assail the last. To pluck the mask from the face of the Pharisee is not to lift an impious hand to the Crown of Thorns. "
– Charlotte Bronte
Sources: A Short Biographical Dictionary of English Literature
by John W. Cousin
Poems by Charlotte Bronte
Charlotte Bronte Links