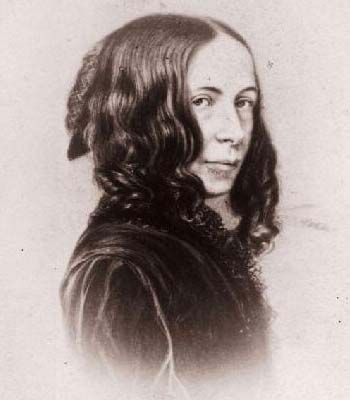 Elizabeth Browning – Biography
BROWNING, ELIZABETH BARRETT (1806-1861).–Poetess, and wife of Robert Browning. While still a child she showed her poetic gift, and her father published 50 copies of a juvenile epic, on the Battle of Marathon. At the age of 15 she fell off a horse, injuring her spine. This accident confined her to a recumbent position for several years, and she never fully recovered from the effects of this. Elizabeth would pass a lot of time writing poetry in a darkened room.
Her early volumes of poetry such as 'The Seraphim and Other Poems' (1838) (including "Cowper's Grave.") and 'The Cry of Children' received wide critical acclaim and she became one of the most respected female poets, she was even mentioned as a successor to Wordsworth as Poet Laureate. In 1845 she met for the first time her future husband, Robert Browning Their courtship and marriage were carried out under somewhat peculiar and romantic circumstances. Her father Mr Barrett ruled his family with extraordinary control, forbidding any of his 12 children to marry. Therefore the couple had to marry in private and make a secret departure from her home to go and live in Italy. Her romance and marriage with Robert Browning helped Elizabeth tremendously, contributing to an improvement in her health.
In Italy the couple ran a guest house, where many writers and poets came at various stages. In 1851 she wrote one of her finest books 'Casa Guidi Windows', this was inspired by her support for Italian independence from Austria. In 1856 she wrote her longest and most popular collection of poems 'Aurora Leigh'
She is generally considered one of England's greatest poetesses. Her works are thoughtful and delicate, but also offer profound ideas, especially on spiritual topics. Her own sufferings, combined with her moral and intellectual strength, made her the champion of the suffering and oppressed wherever she found them. (Elizabeth was an enthusiastic supporter of the anti slavery movement)
Elizabeth had a profound religious faith which infused her work, this religious orthodoxy and her seriousness may make her poetry unfashionable now. However she does have an engaging lyrical style Also her message of hope from a former invalid is a worthy inspiration.
Elizabeth died in her husband's arms in 1861
Sources
'An Anthology of Women's Spiritual Poetry'
Edited Julia Neuberger
A Short Biographical Dictionary of English Literature (1910) Author: John W. Cousin
Poems by Elizabeth Browning

Elizabeth Browning Selected Bibliography
· The Battle of Marathon, 1820
· The Seraphim and other poems, 1838
· The cry of the children , 1841
· The Runaway slave at Pilgrim's point , 1849
· Poems, 1850 – includes serie Sonnets from the Portugese
· Aurora Leight, 1857
· Casa Guifi Windows , 1851
· Last Poems, 1862 (ed. by Robert Browning)
· The Poetical Works, 1904
· Letters to Miss Mitford , 1954
· The Complete Works of Elizabeth Browning, 1973
Links
(Female Poets) (British Poets) (Elizabeth Browning Poetry)
Page and Biography of Elizabeth Browning by Richard