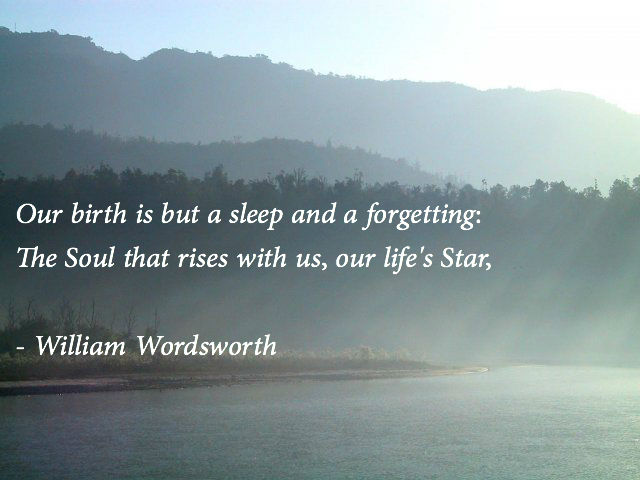 William Wordsworth was one of the key figures in the Romantic Movement, his early poems helping to define the new movement of Romanticism. Wordsworth sought to bring a more individualistic approach, his poetry avoided high flown language however the poetry of Wordsworth is best characterised by its strong affinity with nature and in particular the Lake District where he lived. The early nineteenth century was a time of rapid change and industrialisation, but like his contemporaries, Blake and Coleridge, Wordsworth was often dismayed by what he saw and he sought solace in the grandeur and beauty of nature. Wordsworth offered not just a beautiful picture of nature but also illustrated the healing power of nature on the spirit of man.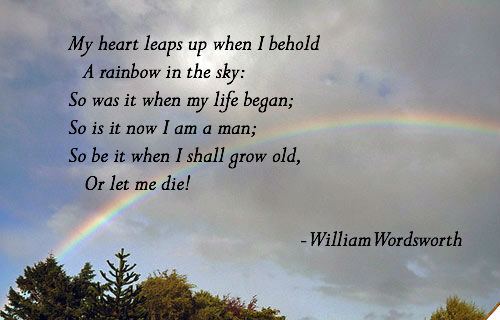 My heart leaps up when I behold
A rainbow in the sky:
So was it when my life began;
So is it now I am a man;
So be it when I shall grow old,
Or let me die!
The Child is father of the Man;
And I could wish my days to be
Bound each to each by natural piety.
In this poem My Heart Leaps Up, Wordsworth also uses another concept that becomes a theme throughout his poetry; the importance of childhood. For many of the Romantics, the memories or visions of an idyllic childhood become a powerful emotive force as they aspired for life of greater harmony and simplicity.
Worsworth's poetry does include passages of great hope, optimisim and joy best summarised through his famous poem 'Daffodils'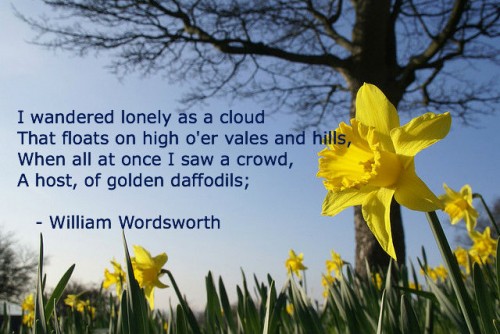 I wandered lonely as a cloud
That floats on high o'er vales and hills,
When all at once I saw a crowd,
A host, of golden daffodils;
Beside the lake, beneath the trees,
Fluttering and dancing in the breeze.
For oft, when on my couch I lie
In vacant or in pensive mood,
They flash upon that inward eye
Which is the bliss of solitude;
And then my heart with pleasure fills,
And dances with the daffodils.
However Wordsworth's life was on many occasions touched by tragedy. His sorrows and awareness of humanity's varied sufferings inevitably led to passages where the beauty of nature contrasted with the fate of man. In this poem Wordsworth suggests that man's inhumanity appears even darker when compared to the pristine beauty and purity of nature that Wordsworth moved through.
Lines Written In Early Spring
I HEARD a thousand blended notes,
While in a grove I sate reclined,
In that sweet mood when pleasant thoughts
Bring sad thoughts to the mind.
To her fair works did Nature link
The human soul that through me ran;
And much it grieved my heart to think
What man has made of man.
Through primrose tufts, in that green bower,
The periwinkle trailed its wreaths;
And 'tis my faith that every flower
Enjoys the air it breathes.
The birds around me hopped and played,
Their thoughts I cannot measure:—
But the least motion which they made,
It seemed a thrill of pleasure.
The budding twigs spread out their fan,
To catch the breezy air;
And I must think, do all I can,
That there was pleasure there.
If this belief from heaven be sent,
If such be Nature's holy plan,
Have I not reason to lament
What man has made of man?
Especially in his early years Wordsworth was a genuinely radical poet, perhaps influenced to some extent by the American and French Revolution and the new ideas of democracy sweeping the world. (For some time he lived in France but had to leave when the revolution made it dangerous) His poem London 1802 is a strong advocacy for social change. These sentiments were shared by other contemporaries such as Blake, although Blake and Wordsworth were mostly unknown to each other.
London 1812
Milton! thou shouldst be living at this hour:
England hath need of thee: she is a fen
Of stagnant waters: altar, sword, and pen,
Fireside, the heroic wealth of hall and bower,
Have forfeited their ancient English dower
Of inward happiness. We are selfish men;
Oh! raise us up, return to us again;
And give us manners, virtue, freedom, power.
Thy soul was like a Star, and dwelt apart:
Thou hadst a voice whose sound was like the sea:
Pure as the naked heavens, majestic, free,
So didst thou travel on life's common way,
In cheerful godliness; and yet the heart
The lowliest duties on herself did lay.
As Wordsworth grew older he became more conservative and his poetry lost its 'radical' edge however he was still held in high regard and in 1848 was appointed to be Poet Laureate.
Article by Richard
Resources on Wordsworth Poetry