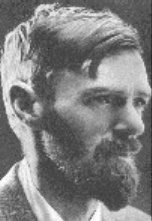 The son of a coal miner, Lawrence was born in Eastwood, Nottinghamshire, United Kingdom. His mixture of working and middle class parents and their often volatile relationship had a great impact on the literature of this English writer. In 1902 he contracted pneumonia and his career as a factory clerk, which had barely started, came to an end. He began training as a teacher first teaching the sons of miners in his home town and then returning to education to receive a teaching certificate from University College Nottingham in 1908.
While working as a teacher in Croydon some of his poetry came to the attention of Ford Maddox Hueffer editor of The English Review, who commissioned the story 'Odour of Chyrsanthemums' which, when published in that magazine, provoked a London publisher to ask Lawrence for more work, and his career in literature began. Shortly after his first novel was published, The White Peacock, in 1910 Lawrence's mother died after a long illness. It is suggested by some that Lawrence may have helped his mother to die by giving her an overdose. Lawrence, the author of Sons And Lovers, (1913), had an extremely close relationship with his mother and her death was a major turning-point in his life just as the death of Mrs Morel forms a major turning-point in the novel.
Pneumonia struck again soon after his mother's death and this led to the tuberculosis which would eventually kill him. He decided on his recovery to abandon teaching to concentrate on writing. In 1912 Lawrence eloped to Germany with Frieda Weekley née von Richthofen (distant cousin of Manfred von Richthofen, also known as "the Red Baron"), the wife of his modern languages professor from Nottingham University. They returned to England at the outbreak of World War I and were married on the 13 July 1914. Because of Frieda's German parentage and Lawrence's pacifism they were viewed with suspicion in England during the war and lived in near poverty. The Rainbow (1915) was suppressed after an investigation into its obscenity in 1915. They were even accused of spying and signalling to German submarines off of the coast of Cornwall where they lived.
After the war Lawrence began what he termed his 'savage pilgrimage'. He left England, to return only twice for short visits, and with Frieda spent the rest of his life travelling, settling down for only short periods. His travels took him to France, Italy, Ceylon, Australia, America and Mexico. He dreamed of establishing a utopian community on the ranch in Taos, New Mexico where he lived for several years but another bout of pneumonia forced him to return to Europe where he lived in Italy, while writing the various versions of Lady Chatterley's Lover (1929), which was published in private editions in Paris.
He died in Vence, France in 1930. Frieda returned to live on the ranch in Taos and later brought Lawrence's ashes to rest there.
His birthplace, in Eastwood, 8a Victoria Street, is now a museum.
Works of D.H.Lawrence
Realism was the main feature of Lawrence's writings and his unflinching depictions of the gritty struggles of everyday life give many of his novels a melancholy tone. His poems help to balance this with many powerful and evocative descriptions of nature, although moments of beauty are present in his books.
Among his many works, most famous are his novels Sons and Lovers (1913), The Rainbow (1915), Women in Love (1920), and Lady Chatterley's Lover (1928). These all take place in and around Eastwood, Lawrence's birthplace, which was a grim industrial mining town. Lawrence would return here in his literature despite leaving it in real life, giving it an importance similar to that held by Wessex for Thomas Hardy, whom Lawrence admired.
What is often forgotten amongst the claims of Lawrence as a pornographer is the fact that he was extremely religious. He was tired of the stifling Christianity of Europe and wished to rejuvenate it with earlier, tribal religions. This search for a primeval religious consciousness was part of the reason for his 'savage pilgrimage'. He was also inspired by contemporary 'process philosophy': for example works by Nietzsche, Henri Bergson and others, as well as by the works of Freud, most notably in Sons and Lovers which was also his most autobiographical work. He wished to free himself from the sexual restrictions of the past so that he could examine their place in religion but he would have been perhaps horrified if he realised his role in the "sexual revolution" of the 1960s.
Poems by D.H.Lawrence
View: D.H.Lawrence Poems
Poetry Books of D.H.Lawrence
    * Love Poems and others (1913)
    * Look! We Have Come Through! (1917)
    * New Poems (1918)
    * Bay : a book of poems (1919)
    * Birds, beasts and flowers (1923)
    * Pansies (1929)
D.H.Lawrence Links
External Links
D.H.Lawrence Collection at Nottingham University.  The D H Lawrence Collections at The University of Nottingham Library form one of the major international research resources for the study of D H Lawrence (1885-1930), the well-known Nottinghamshire born writer, who was briefly a student at University College Nottingham in the early 20th century. The collections include printed editions of his writings, literary manuscripts, correspondence by and about him, a small number of artworks, newspaper cuttings, reports, photographs and a wealth of supporting secondary sources. Researchers now come to Nottingham from all over the world to consult the collections and detailed catalogues of both published and unpublished materials are now available with the support of the Heritage Lottery Fund.
D.H.Lawrence Online – maintained by enthusiasts of D.H.Lawrence,
The Rananim Society– A D.H. Lawrence discussion group