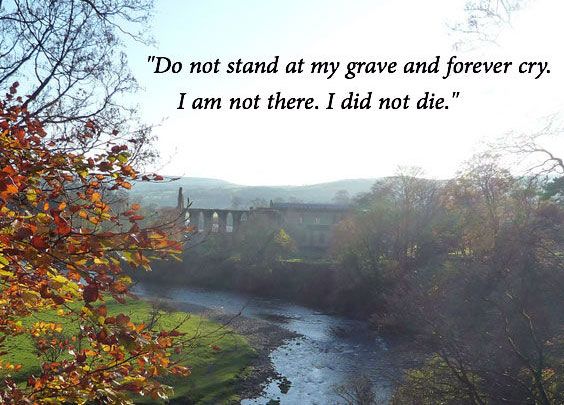 Do not stand at my grave and forever weep.
I am not there; I do not sleep.
I am a thousand winds that blow.
I am the diamond glints on snow.
I am the sunlight on ripened grain.
I am the gentle autumn's rain.
When you awaken in the morning's hush
I am the swift uplifting rush
Of quiet birds in circled flight.
I am the soft stars that shine at night.
Do not stand at my grave and forever cry.
I am not there. I did not die.
– Mary Frye
Related
Note on Authorship of poem
The most widely circulated author is Mary Fry.
The following was taken from The London Magazine December / January 2005:
Mary Elizabeth Frye nee Clark was born in Dayton, Ohio, on November 13th 1905. She dies on September 15th 2004. Mary Frye, who was living in Baltimore at the time, wrote the poem in 1932. She had never written any poetry, but the plight of a German Jewish girl, Margaret Schwarzkopf,who was staying with her and her husband, inspired the poem. She wrote it down on a brown paper shopping bag.
Margaret Schwarzkopf had been worrying about her mother, who was ill in Germany. The rise of Anti-Semitism had made it unwise for her to join her mother. When her mother died, she told Mary Frye she had not had the chance to stand by her mother's grave and weep.
Mary Frye circulated the poem privately. Because she never published or copyrighted it, there is no definitive version. She wrote other poems, but this, her first, endured. Her obituary in The Times made it clear that she was the undisputed author this famous poem, which has been recited at funerals and on other appropriate occasions around the world for seventy years.
A 1996 Bookworm poll named it the Nation's Favourite Poem" [London Magazine Editor, Sebastian Barker]
Photo Top: Tejvan, Sri Chinmoy Centre Galleries.