"Chant the Name of the Lord and his glory unceasingly,
That the mirror of the heart may be wiped clean."
– Sri Chaitanya
Poems / Songs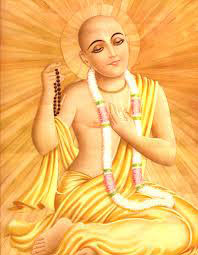 Sri Chaitanya was born in Bengal about 1486. He was a great scholar and pundit however in his early twenties he became absorbed with devotion for Lord Krishna. He forsook his worldly career and spent his time as an ascetic, a wandering monk. He spent his time in Kirtan (devotional singing) and meditation.
Sri Chaitanya spent many years travelling through India attracting many followers and disciples. He spent the last 24 years of his life in Jagannath, Puri where he enjoyed the patronage of  Maharaja Prataparudra the King of Orissa,
Sri Chaitanya left a profound legacy on the spiritual and cultural outlook of India, especially Bengal. He did not adhere to the rigid caste system and accepted Muslim disciples as well as Hindu disciples.
Sri Chaitanya gave a resurgence to the Vaishnava tradition of bhakti yoga "devotional yoga". This tradition was followed by saints such as Mirabai and Sri Ramakrishna in the 19th Century. In the 20th Century A.C. Bhaktivedanta Swami Prabhupada, popularised this form of Hinduism in the West.
"Chaitanya" means consciousness
By: Richard
For more view: Sri Chaitanya Mahaprabhu biography
---
On Sri Chaitanya
by Sri Chinmoy
" Lord Gauranga's rise in the firmament of Bengal when the province was shrouded in a mist of superstition, ignorance and pessimism was a supreme blessing of Providence. The supernal light that He threw on the slumbering and downtrodden country stirred its children to a new life.
Sri Chaitanya's Vaishnavism is synonymous with the Radha-Spirit, the living emblem of divine love at its highest. And this love attains the acme of perfection in possessing and being possessed by the ever-blissful Sri Krishna.
Man can pay his true homage to the Avatar Sri Chaitanya when he is capable of sharing even an infinitesimal fraction of His Divine Ecstasy."
From: Sri Chinmoy Library
---