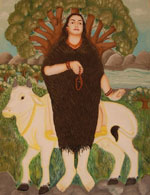 Mahadeviyakkha lived in the 12th Century in the south of India.
From an early age she was initiated into the worship of Shiva. She considered this initiation to be the most important moment of her life and she became a devoted worshipper of Shiva. The form of Shiva she worshipped was known as Chennamallikarjuna., which translates as " The Beautiful Lord, white as jasmine." Much of Mahadeviyakkha's poetry refers to her vivid descriptions of her beautiful Lord. And indeed she always signed her poems  O Lord White as Jasmine.
Legend says that the local Jain King of the area desired Mahadeviyakkha for she was a woman of un-surpassing beauty. Her family naturally agreed, and perhaps were a little fearful of incurring the King's displeasure should Mahadeviyakkha be uncooperative. The wedding is said to have taken place (although some scholars dispute this) however Mahadeviyakkha was unwilling to reciprocate the desire of the King. Mahadeviyakkha was immersed in devotion to her Lord and she could not accept a life of servitude to an atheistic King.
Her family were highly critical of her 'unorthodox' behaviour and this led Mahadevia to renounce her worldly life. Mahadevi left her marriage and place of birth to live the life of a wandering mendicant. Mahadevi is said to have worn only long tresses. She felt clothes were a needless adornment for one seeking the Lord.
Mahadeviyakkha is said to have then travelled to the region of  Kalyana. Kalyana was a refuge for genuine Shiva bhakti, it stood out from the normal religious and social customs of the time. One of the leading saints Basavanna is said to be one of the first socialists because he spoke out against the inequities of the caste system. But primarily Basavanna and Allama were uniting those dedicated to Shiva worship
However even the leaders of this community Basavanna and Allama had some trouble accepting Mahadevi, they were somewhat disturbed by her naked appearance. However  Allama was eventually impressed by both her humility and genuine spirituality and Mahadevi was accepted into the community.
Much of her poetry relates to the dialogues Mahadevi had with Allama as she was seeking to prove her spiritual intent. Her advice was to wholeheartedly yearn for the Divine without any inhibition. Mahadevi felt that outer rituals were mostly unimportant, what was important was the inner consecration the inner worship
"The arrow that is shot should penetrate so deeply
that even the feathers do not show.
Hug the body of the Lord so tightly
that the bones must be crushed to crumble.
Weld to the divine until the very welding disappears. "
– Mahadevi
Despite her years of great tapas Mahadevi still had not had the ultimate experience of merging into the infinite – into her Chennamallikarjuna. It is said that towards the end of her life she retreated to the cave where her last desire was fulfilled. Merging into the infinite she quietly left the earthly stage, leaving behind a legacy of illumining poetry.
"In her intense devotion to Lord Shiva and single minded quest of Him she spurned the riches and comforts of a palace, cut asunder domestic bonds, and set out as a wandering devotee meeting with and overcoming many hardships on her journey to this final goal. In addition, she had the gift of imaginative expression. A few of the outpourings of her experience are preserved for posterity in the shape of Vachanas "sayings" in rhythmic Kanada prose.. Her vachanas are characterized by intense feeling and deep insight."
-T.N. Sreekantaiya Ma on Akka Mahadevi
From Women Saints East and West
The life of Mahadeviyakkha to some extent mirrors that of Mirabai. Both female saints had to renounce the comforts and expectations of a family life. Both suffered censure and displeasure from parts of society who didn't appreciate their devotion to spirituality. However despite the difficulties both faced, the intensity of their divine intoxication is startlingly revealed in their poetry.
"Akka's poems are moving, haunting, unforgettable. For women, her work embodies a radical legitimacy as she struggles in her poetry to go beyond much of Virasaiva poetry to include the struggles of her body, struggles against the pettiness of roles she is forced into as a woman, struggles against a man who is also a prince and a Jain, and against the social expectations that restrain her." – From: Women Writing in India
 Article by: Tejvan
Poems by Mahadevi
View: Mahadevi Poems
Mahadeviyakkha is sometimes known as: Akkha Mahadevi or just Mahadevi
Mahadevi Links
Further Reading
Speaking of Siva; translated with an introduction by A. K. Ramanujan (The Penguin classics). Harmondsworth, Penguin, 1973  – This includes 48 of Mahadevi's poems translated by A.K.Ramanujan, with an essay on Varasaiva poetry
Women Writing in India 600 BC to the Early 20th Century Edited by Susie Tharu and K. Lalita
Vacanas of Akkamahadevi, with the original text in Kannada / translated from Kannada into English by Armando Menezes, S.M. Angadi. Dharwar: M.A. Adke, 1973.  – Translations of Mahadevi's poems (vacanas) into English.
Women Saints of East and West: Edited Swami Ghanananda. Published by Vedanta Press. Article on Mahadevi by T.N. Sreekantaiya M.a Professor of Kannada Karnatake Univ. India