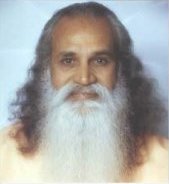 Swami Satchidananda is a modern spiritual teacher who travelled from India to share the ancient Hindu teachings of Yoga with the West. Swami Satchidananda is widely acknowledged as a tireless proponent of peace and religious harmony. He delivered his message of spirituality and transcultural values with a characteristic humility and keen sense of humour. Through his exemplary life and spiritual writings he has inspired many to live the practical ideals of yoga in their everyday life.
Swami Satchidananda was born Ramaswamy in Tamil Nadu, South India. His parents were devout Hindu's and he was brought up in a comfortable and loving family environment. As a young man he took various job's which included working as an Electrician and engineer. He also married and had two sons. However the early death of his wife marked an important transition in his life. He increasingly realised the transitory nature of life and felt an inner urge to dedicate himself to spiritual practices. There then followed a period in Ramaswamy's life where he would spend many hours in meditation and hatha yoga postures. He also began travelling around India and met many of the great Saints and Sages of the time. This included spending time in the ashram of Sri Ramana Maharshi and Papa Ramdas. He also travelled to Pondicherry to receive the darshan of Sri Aurobindo.
In 1949 Swami Satchidananda travelled north to Risikesh. It was here that he met Swami Sivananda who would become his Guru. Before his final initiation Swami Satchidananda, or Sambasivam as he was known, at the time undertook one final pilgrimage. He decided to walk up the holy Himalayan shrines of Kedarnath, Tunganath and Badrinath, all these peaks were quite near Risikesh. In later years he would also make a pilgrimage to Mount Kailash. These pilgrimages were an opportunity to experience the majestic beauty and spiritual inspiration of the great Himalayan peaks.
Under the guidance of his Guru, Swami Satchidananda was encouraged to spend a balanced life of meditation and service to others. From this time he also began to accept disciples of his own. He spent much time travelling around India teaching and offering lectures on yoga. For several years he spent time in Sri Lanka working to help organise and run the Divine Life society in Trincomalee.
In 1996 one of his disciple's and the well known artist Peter Max invited Swami Satchidananda to visit America. Satchidananda took up the invitation and on arriving in New York found many Americans very eager to learn and practice about the techniques of yoga and meditation. Shortly afterwards he became an American citizen and for the remaining years of his life he was based in America, although he frequently travelled throughout the world.
To help spread his mission Swami Satchidananda founded the Integral Yoga institute at Yogaville in Virginia. He accepted both monastic and household disciples. He simply encouraged sincere seekers to practice the disciplines of meditation, yoga and serve others through dedicated action. Swami Satchidananda was also always keen to promote the idea of religious unity. He taught that all religions should be respected and revered.
'After you have decided which path is right for you, stick to that path, but do not say to others that this is the only one. Recognize all of the paths and respect them. In the spiritual life, all paths lead to the same place.'

'To see the unity in diversity is Yoga – to see the same consciousness in everyone.Whoever realizes that Yoga or union will always love the whole universe as part of his or her own self.'
To this end Swam Satchidananda met with many ministers and priests from different faiths. They warmed to his ecumenical approach and sincere spirituality. In a forward to the book 'Swami Satchidananda – Apostle of Peace' Father Thomas Keating said of Satchidananda
'The Reverend Sri Swami Satchidananda has devoted himself tirelessly to the promotion of spirituality, transcultural values and understanding among the world religions'
In 1969 Swami Satchidananda was invited to open the legendary and unique Woodstock festival. To other 400,000 music lovers the Swami gave a blessing and benediction to the ideal of bringing people together through music. His introductory words to the 400,000 spectators were.
'My beloved sisters and brothers. I am overwhelmed with joy to see the youth of America gathered here in the name of the fine art of music. In fact through music we can work wonders.'

'Music is the celestial sound, and it is sound that controls the whole universe, not atomic vibrations. Sound energy, sound power is much, much greater than any other power in the world.'
In 2002 Swami Satchidananda left the body entering mahasamadhi. Amongst his last words was the profound message
"I will always be with you in Spirit. Even if my body is not there, you will never be without me." (2)
For his life of dedicated service Swami Satchidananda received many awards including. the Martin Buber Award for Outstanding Service to Humanity, the Juliet Hollister Interfaith Award, the B'nai Brith Anti-Defamation League's Humanitarian Award, and the Albert Schweitzer Humanitarian Award. In 2002 he received the U Thant award from Sri Chinmoy at the interfaith centre of New York
Quotes from 'Swami Satchidananda – Apostle of Peace' ISBN 978-0932040312
(2) From: Biography of Swami Satchidananda Early Years
External Links